L'Actualité du Rock Progressif.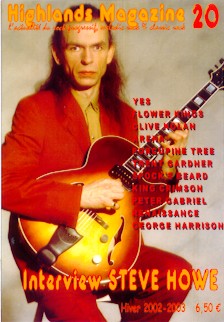 ARTICLES

CHRONIQUES CD

FLOWERS KINGS au Divan du Monde
UNFOLD THE FUTURE
Interview ROINE STOLT
FLOWER KINGS Live in New York
TOMAS BODIN : PIN UP GURU
Interview TOMAS BODIN
YES : A perpetual change 1983/2002
Interview STEVE HOWE + Skyline
KANSASsionnel !
Pleins feux sur CLIVE NOLAN
L'événement : ARENA
L'événement : CAMEL
L'événement : FISH
L'événement : FOCUS
L'événement PETER GABRIEL
L'événement : GALAHAD
L'événement : GENIUS
L'événement : KING CRIMSON
L'événement : GEORGE HARRISON
L'événement : RENAISSANCE
L'événement : TANTALUS
L'événement TRIGGERING MYTH
Interview NEAL MORSE
SPOCK'S BEARD HommageThe Light
Dossier : PORCUPINE TREE Part 2
TRENT GARDNER l'explorateur

Festival CRESCENDO 2002

TURBULENCES l'actualité
BOLLENBERG EXPERIENCE
CLEAR BLUE SKY
JOURNEY
KERSSPINK
MASCHERA DI SCHERA
MORPHEUS
MUFFINS
RYO OKUMOTO
OUTSIDE
PIGS AND PYRAMIDS
SOTOS
COULEUR POURPRE Purple Family
ORANGE METALLIQUE
AVANTASIA 2
HARDLINE
HEAVEN'S CRY
YNGWIE MALMSTEEN
ERIC MARTIN SYMPHONY X
THUNDERSTONE
JOHN WEST
RESURGENCES Les Rééditions
AGITATION FREE
François BREANT
ETRON FOU LELOUBLAN
GALAXY
LANDMARQ
OUT OF FOCUS
BREVES Les Nouvelles





Retour au sommaire.