L'Actualité du Rock Progressif.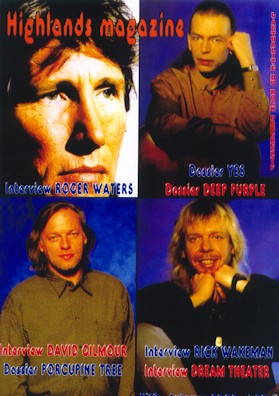 ARTICLES

CHRONIQUES CD

Roger WATERS Paris Bercy 19/06/2002
Roger WATERS Interview
David GILMOUR Interview
The Story So Far DEEP PURPLE 1973-1976
SARLAT Festival
L'événement ! ANDRE ANDERSEN
JOHN PETRUCCI & JORDAN RUDESS Interview
ORTHEZ Festival
Rétrospective Discographique Années 70 YES
… A PERPETUAL CHANGE
YESSYMPHONIC DVD
IN A WORD : YES 1969 COFFRET
RICK WAKEMAN DVD
RICK WAKEMAN Interview
PENDRAGON DVD AT LAST AND MORE…
CD ACOUSTICALLY CHALLENGED
URIAH HEEP DVD + CD
THE MAGICIAN'S BIRTHDAY PARTY
K. HENSLEY - J. WETTON DVD
MOSTLY AUTUMN DVD
Interview IAN CRICHTON - SAGA
Dossier PORCUPINE TREE
L'événement ! ARTS RUNI CRUZAID LIVE CUTS
L'événement ! DEUS EX MACHINA - CINQUE
ECHOLYN - MEI
L'événement ! FLAMBOROUGH HEAD ONE FOR THE CROW
GERARD L'événement ! SIGHS OF THE WATER
L'événement ! GRAND STAND - TRICKS OF TIME
HIGH WHEEL BACK FROM THE VOID
L'événement ! INQUIRE - LIVE BOOTLEG
L'événement ! NATHAN MAHL - THE SENTENCE
L'événement ! QUIDAM - THE TIME BENEATH THE SKY
SAENS - ESCAPING FROM HANDS OF GOD
SHAKARY - THE LAST SUMMER
LELE HOFFMAN Interview
L'événement ! SIMON SAYS - PARADISE SQUARE
L'événement ! SOFT MACHINE - BACKWARDS
L'événement! SPOCK'S BEARD - SNOW

TURBULENCES L'ACTUALITÉ
AENTHEOS
ALQUILBENCIL
C. AUDREN
CACTUS PEYOTES
CANTINA SOCIALE
MATT DICKSON
DOUZE ALFONSO
ELOY
FRITSCH
ENCHANT
PATRICK FORGAS
INDEX


TURBULENCES L'ACTUALITÉ
LANA LANE
LANDMARQ
JOHN LAWTON & STEVE DUNNING
MISTER KAH
MOSTLY AUTUMN
PARALLEL OR 90°
PAR LINDH PROJECT
PINEAPPLE THIEF
POCOS & NUVENS
RUDY'S JOURNEY
SINISTER STREET
IL SEGNO DEL COMMANDO
TAPESTRY OF DELIGHTS
TAAL
THRESHOLD
TRESPASS
TRYO
UNIVERS ZERO
ANTONIO VALDES
CSABA VEDRES
ORANGE METALLIQUE
ANGRA
CROWN OF THORNS
DEADSOUL TRIBE
FREEDOM CALL
HONEYMOON SUITE
MANOWAR
JIM PETERIK
ROSE TATTOO
SALTATION MORTIS
RALPH SANTOLLA
SHAMAN
SONATA ARCTICA
SUBWAY TO SALLY
TY TABOR
TALON
BERNIE TORME VICIOUS MARY
VANDERHOOF
WHITE SKULL
LIVE ! TAAL & TRYO
RESURGENCES - LES REEDITIONS
JP ALARCEN
ANGE
ARKHAM
ARTI & MESTIERI
FICCION
OSIRIS
S. PEREGRINE TOOK
SPRINGWATER
TANTRA
BREVESWURTENBERG





Retour au sommaire.