L'Actualité du Rock Progressif.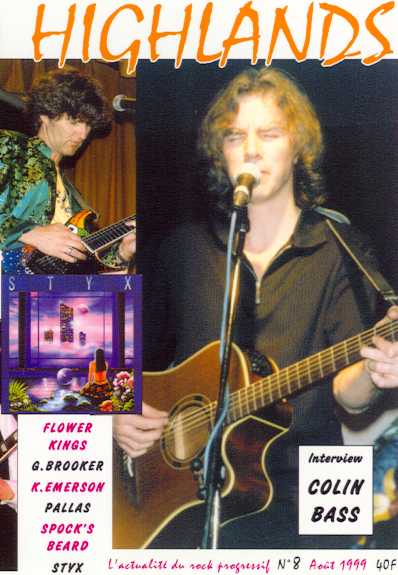 ARTICLES

CHRONIQUES CD

QUIDAM / COLIN BASS Live in Bordeaux
Interview COLIN BASS
Choix de textes COLIN BASS
Interview QUIDAM
Live ! THE FLOWER KINGS in Royan
Dossier STYX
Interview NICK D' VIRGILIO
SPOCK'S BEARD : Day For Night
Interview NIALL MATTHEWSON
PALLAS / Beat the Drum
PALLAS / Arrive Alive
PERSPECTIVES FOLK
Interview GARY BROOKER
GARDEN OF DELIGHTS
KEITH EMERSON les travaux solo part 5
Live ! UDEN Planet Pull 7ème festival
Live ! TOTO in Bordeaux 24-03-1999
Portrait HOUSE OF USHER
METAL EXPRESS
BARROCK La Strega
Interview JEAN-PAUL TRUTET Part 2
UDRAYA : Incantations
Live ! ANGRA - STRATOVARIUS
MELODIC ROCK
Dossier DIXIE DREGS
Jean-Pierre Alarcen - Tableau N°2
Anathema
Asa de Luz, Balletto di Bronzo
Blackmore's Night
Cast
Codice
Colorstar
Darvill Martin
Doracor
Eclat
Fish
Free Future
Fruitcake
Grey Lady Down
Guercia
Steve Hackett
IQ
Kada
Land's End
Liquid Tension Experiment
Ian Mac Donald
Mad Crayon
Nebelnest
Yngwie Malmsteen
Nexus
Outer Limits
Parallel or 90°
Christiano Roversi
Salem Hill
Sebastian Hardie
Solaris
Snowdonia
Saga - Full Circle
Timothy Pure
John Wetton
You and I

Retour au sommaire.